Standing alongside disaster affected communities in the Mid West.
A reflection from Rev Erica (Ric) Payne who offers ministry services in a voluntary capacity at Dongara Uniting Church and is a WA Disaster Recovery Chaplain and Frontier Services Bush Chaplain, Mid West WA.
This article was first printed in the June edition of Revive.
On Sunday 11 April 2021, Tropical Cyclone Seroja, a category 4 cyclone with its epicentre just south of Kalbarri, tore her way through the Mid West communities of Western Australia, destroying and blowing away much in her path. I became intimately acquainted with this destruction as my immediate family live and farm at Morawa and at Northampton, two communities now in various phases of recovery.
As a mother, friend and confidante, within four days of Seroja's landfall, I made the first of many trips to Northampton and to Morawa to be with my families, friends and community where I was able to reach out to folk and to listen to their stories – stories of homes and businesses damaged or lost; of stock and pets lost; of landscapes forever changed; of farm infrastructure and vehicles blown apart and beyond repair; of survivor guilt; of a community either shedding tears or venting anger; and of the urgency to make good use of Seroja's rainfall to begin seeding the year's crops. As a farmer's wife, I well understood that urgency.
From June 2021, I stepped into the role of WA Disaster Recovery and Frontier Services Bush Chaplain, Mid West WA, focusing mainly on the communities and Shires of Northampton, including the township of Kalbarri, and Chapman Valley. I also represent the WA Synod's Disaster Relief and Community Recovery Working Group on the Chapman Valley – Northampton Local Recovery Co-ordination Group which meets monthly. Frontier Services funds me for one day per week, and as you can imagine, that one day easily morphs into two or three, sometimes more!
Beyond the services provided by the State Government, there is a whole area of need not being met, which is the pastoral and spiritual support of disaster affected people and communities not eligible for support or grants or where these were inadequate or too small to make a huge difference to people. Essentially as a Chaplain I respond to needs, and the need is simple, people need others to stand with them as they move to recovery. My ministry is as a listener, someone who cares and takes the time to be with another in their pain, trauma, suffering, or in their joy and celebration. I can assist them to manage whatever they are confronting or refer them to professional services. I meet folk as I attend community groups, events, and social functions where possible, and enjoy many cuppas with these incredibly beautiful folk.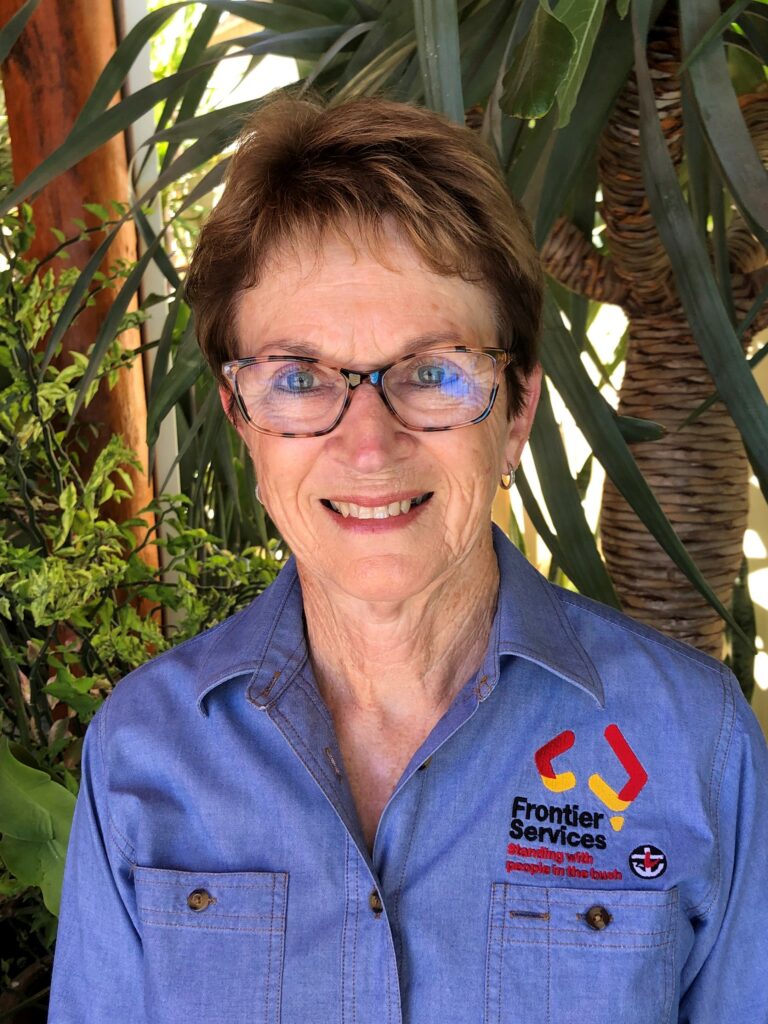 Increasingly, I'm meeting with those who are grappling with other issues that need managing or resolving, such as those struggling with the death of a partner, spouse or child, loss of mobility and increasing age, suicide and surrounding issues of trauma, mental health issues, emergency food requirements, loneliness, and much more.
Grief and loss are major areas I am working to address through the coming months by facilitating small group workshops, 'Seasons for Growth' through the Mary McKillop Institute. Loneliness and isolation are issues I often confront in both the recovery space or beyond. Regularly visiting, chatting and listening is so very greatly appreciated. More than once I have been told that I encourage or motivate the one I am visiting to take steps to re-order their life, to pursue matters further as with legal or medical issues, or to even
change out of their pyjamas before I arrive! I quote another message received, 'How blessed I am to have you in my life. Thank you for
listening to my ups and downs. Now without family, my life would be miserable without friends and the church around me. In fact, I would fear for myself. Thankyou.'
Within the recovery space, the trauma of the cyclone has been exacerbated by ongoing battles with insurance companies, under insurance and lack of insurance, the fraught supply chain for materials, the scarcity of trades, and dodgy builders taking advantage of vulnerable people. As these communities recently acknowledged the passing of the second year since Seroja, there are signs of hope, as the physical scars are healing when each building, roof or fence is repaired or each concrete pad is laid. Even the supply and fitting of cyclone-proof shutters is cause for a celebration of sorts. In some communities there is a greater, though fragile, positivity.
The uncertainty however, remains with each wind and rain event that threatens and the fear of other cyclones. This has come into sharp focus over the past week as TC Ilsa made her way down and then across the Pilbara coast.
My heart aches and I want to be with them all. Yet I know that their ongoing recovery must come from within themselves and their communities. Some are doing that, others will never recover, some need a helping hand, a promise of hope and love. There are signs of that – so many have unselfishly offered their hands, their feet, their homes and their hearts to others, often to complete strangers.
I am humbled by God's grace and blessings which enable me to reach out, connect, and walk with those folk in recovery from Seroja or other trauma or pain, and have had no-one to listen to them, or who are repeatedly volunteering or working in the space of community recovery, at their own health expense, or are the vulnerable, living on the edge of community.
God's grace and that of these folk, are what give me hope.