Our campsite is located on Geographe Bay, a beautiful coastline stretching for over 30km, which is situated between Bunbury and Margaret River. With the dazzling waters of Geographe Bay and a picturesque countryside, our campsite is an ideal location for school groups, youth camps and ministry retreats.
Location
Our campsite is positioned on the "Holy Mile", at 140 Caves Road, Siesta Park, Western Australia, 6280. Getting to our campsite takes approximately two hours and 40 minutes (from Perth), following the Kwinana Freeway and Forrest Highway south.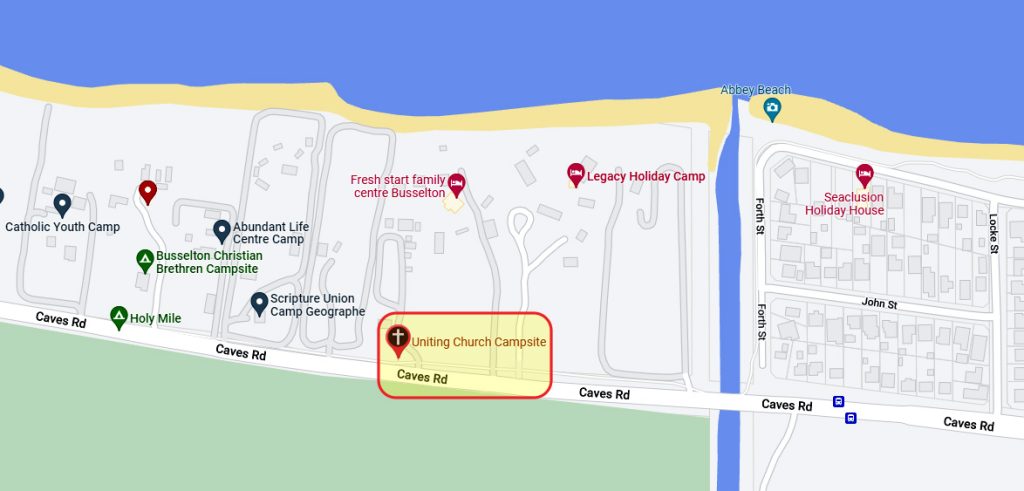 Amenities
Our campsite consists of:
21 x powered sites
7 x unpowered sites
A large meeting room (with fridge, microwave, urn, tables and chairs)
2 ablution blocks
Outdoor BBQ area **
** A new campsite kitchen is scheduled to be built in early to mid 2023.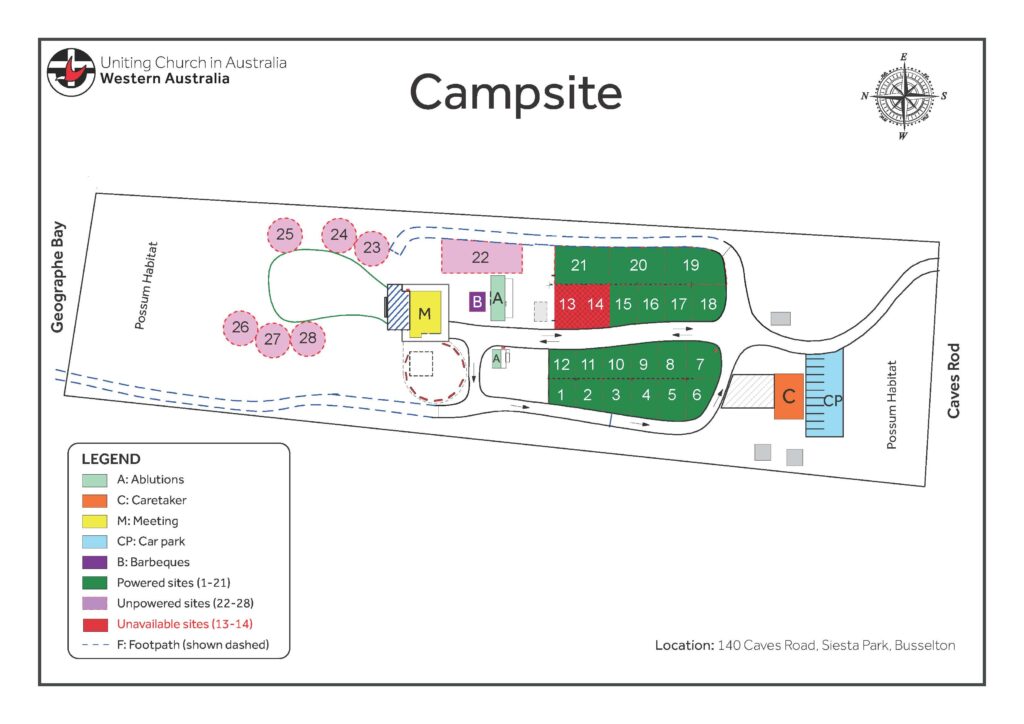 General Bookings
(Please scroll down the page for the online booking buttons)
Weekdays: Monday to Thursday. Weekends: Friday to Monday.
Check-in: 12:00 pm
Check-out: 10:00 am
Note: Hire bookings can only be accepted for members of the Uniting Church: employees, school and agency programs.
Payment
Payment (in full) is by credit card, and part of the booking process.
Refunds
Payments are non-refundable.
Bookings are transferrable providing there is a vacancy for the new date/s.
Refunds will not be given for persons expelled from the campsite in violation of the Campsite's Rules and Restrictions.
Refunds will not be given if you decide to check out early.
All Site (Group) Bookings
For large group bookings, please contact our Property Team.
Email: property@wa.uca.org.au
Phone: (08) 9260 9800
Fees
7 x Unpowered Sites
Two people *
Monday to Thursday: $96.00 (total)
Friday to Sunday: $72.00 (total)
19 x Powered Sites
Two people *
Monday to Thursday: $120.00 (total)
Friday to Sunday: $90.00 (total)
* $10 per additional person, per night
** Under 5 years of age free
Brochure
You can download our brochure to print and share here:
Rules | Restrictions
We have a zero-tolerance policy against discrimination at camp and are committed to helping our Host and camper community be inclusive. Please read and follow the rules and resistrictions:
Alcohol
Alcohol is permitted, though please keep it within the confines of your site. No camper is permitted to wander the campsite consuming alcohol. Please drink responsibly and with consideration for others. Management reserves the right to evict any camper under the influence of alcohol.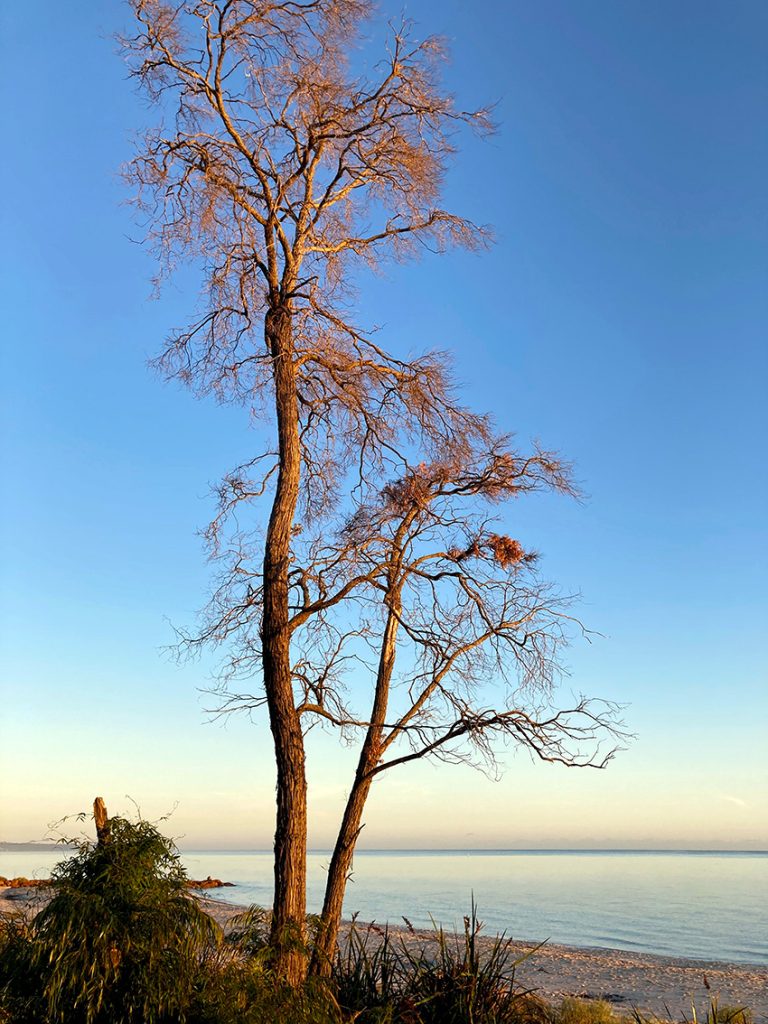 Fires
Campfires are not permitted in the park at any time.
Smoking
This campsite is strictly a non-smoking area.
Music & Noise
Please keep noise to a minimum after 10.00 pm.
Pets
No pets are allowed at any time.
Cleaning fish
All fish and crabs must be cleaned on the beach and offal put back into the sea. Cleaning of fish is not permitted on the campsite.
Rubbish
Dispose of garbage, recycling, and compost responsibly.