The Uniting Church Adult Fellowship (UCAF) is an agency of the Uniting Church in Australia, which meets in each Synod. In Western Australia, the UCAF Committee facilitates our vision and mission.
About UCAF
Our Vision
To be a visible, valued and vital contact with fellowship groups proactive in all aspects of Uniting Church life.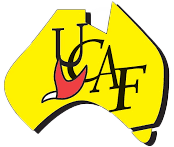 Our Mission
To promote the diversity, value and strength of fellowship groups and encourage the members in spiritual growth and involvement across the Uniting Church
By providing positive leadership, and by supporting the Church's mission of encouraging and enabling all persons to discover, accept and express the Gospel of Jesus Christ.
Certificate of Appreciation for Octogenarians
The WA Uniting Church Adult Fellowship Committee presents certificates of appreciation to all octogenarians nominated by their church or fellowship group for faithful service now and over the years past. Certificates are presented at the annual UCAF Fellowship Day. Download the application form below:
Keep in Touch
Take a look at our quarterly e-publication Newslink which features stories about fellowship across the Synod and beyond.
Latest Newslink Edition:
Click on the image to view the December 2023 Newslink
UCAF National Gathering
The UCAF NC National Gathering will be held in Adelaide from 22 January to 27 January 2024.
The National Gathering will bring together parts of the previous National Celebration and the National Consultation. If you have previously attended either of these UCAF NC events, this new National Gathering is something you may not want to miss. Find out more in a letter from the National Committee here.
Registration Form
Contact Us
For more information on UCAF such as group meetings, activities and congregation support, please contact: