Christ has called us into a community of justice where all are free to contribute and to share one another's burdens. The Uniting Church respects the rights and dignity of our first people.
A Covenant Relationship
At the heart of our justice work is the Uniting Church's efforts to bring First and Second Peoples of Australia together and to support First Nations Peoples, primarily through our covenant relationship with the Uniting Aboriginal and Islander Christian Congress (UAICC).
In 1994 the Uniting Church in Australia (UCA) formally entered into a Covenant with the Uniting Aboriginal and Islander Christian Congress so that together we may contribute to a more just church and nation. On behalf of the Second Peoples of the UCA, the Uniting Church's 7th President Dr Jill Tabart read a statement acknowledging past wrongs and making a new commitment to the relationship. On behalf of First Peoples of UAICC, Congress Chairperson Pastor Bill Hollingsworth responded acknowledging past pain and looking to future with hope. Pastor Hollinsworth also presented to the UCA, a Covenant Painting. The full Covenanting Statement from the 7th Assembly, 10 July 1994 is available from the UCA website.

(Uniting Church in Australia, Assembly, Covenanting in the Uniting Church)
The Covenanting Commission
The Social Justice Unit supports the Covenanting Commission, a joint body between the Synod and the WA Regional Committee of UAICC. Any matters relating to Aboriginal and Torres Strait Islander People are discussed with members of Congress, including the following:
The implementation of the recommendations of the Bringing Them Home Report through support for Bringing Them Home WA.
Social Reinvestment WA to eliminate the over-representation of First Peoples in the justice system in Western Australia. Listen to the Stories from the Inside podcasts.
Policies which respect self-determination and the ability and desire of First Peoples to achieve their own changes and solutions.
Adoption of the Statement from the Heart, the establishment of a Voice to Parliament, and a Makarrata (agreement-making) Commission.
The Boab Network, a sub-committee of the Creative Living Centre, a registered not-for-profit charity with its own constitution and board which answers to the Council of the Floreat Uniting Church.
Uniting Church in Australia, Assembly
Learn more about Covenanting in the Uniting Church on the Assembly website.
Take Action
Sign the petition to the WA Legislative Council seeking a compensation scheme for the Stolen Generations Survivors by Bringing Them Home WA, Yokai Healing our Spirit and Kimberley Stolen Generation Aboriginal Corp.
Resources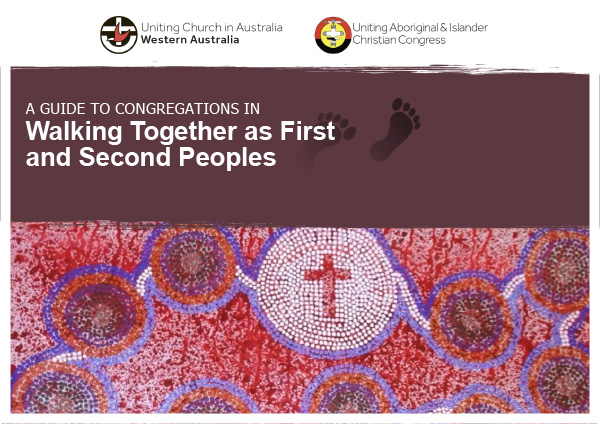 Uniting Church Western Australia – Congregation Covenanting Guide
The Congregation Covenanting Guide 'Walking together as First and Second Peoples' has been prepared by the Covenanting Commission for use in congregations. The resource has been developed to provide a simple list of suggested actions congregations can take to progress their Covenanting journey. We encourage all congregations to use the guide and continue to take steps in walking together as First and Second Peoples.